On April 29, 2021 Hyper Innovation hosted a live, virtual event featuring a health tech innovation leader as she discussed the challenges and opportunities in healthcare clinical and administrative data integration. CEO and Founder Sandra Bradley, facilitated the discussion and was joined by Jennifer Mueller, Wisconsin Hospital Association.

Jennifer Mueller, MBA, RHIA, FACHE, FAHIMA is the vice president and privacy officer at the Wisconsin Hospital Association Information Center, located in Madison Wisconsin. Prior to starting in this role, Ms. Mueller was the vice president and chief information officer at Watertown Regional Medical Center in Watertown Wisconsin.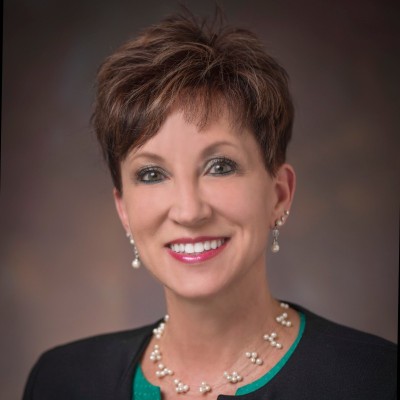 She is an active participant in a number of professional organizations on both the national and Wisconsin levels. Nationally, she is a member of, and holds Fellow certifications from both the American Health Information Management Association (AHIMA) and the American College of Healthcare Executives (ACHE).  In Wisconsin, she is the Past-President (twice) of the Wisconsin Health Information Management Association (WHIMA), is active in the Wisconsin Chapter of the Health Information and Management Systems Society (HIMSS) and the HIPAA Collaborative of WI (HIPAACOW). She was most recently appointed to the AHIMA board of directors where she will serve a three-year term. She has also received numerous awards during her career including WHIMA's Rising Star Award, Motivator Award and the Distinguished member award.
Ms. Mueller is a registered health information administrator and earned both her BS in Health Information Management and her MBA from the University of Wisconsin-Milwaukee.
Key Takeaway: The healthcare of tomorrow is customer-centric, distributed, and value-driven and leveraging technology to its full potential is key.
Interested in the recording?
Integrating Clinical and Administrative Data: Challenges
Top Challenges:
Changing consumer expectations and behaviors around provider care and data
Aging population and lagging population growth
Aging workforce as baby boomers retire in record numbers in the coming years
Workforce shortage with lack of new healthcare staff entering the workforce at a rate comparable to looming the retirement population
Provider burnout from documentation and lack of care team support (see workforce shortage)
Under-utilization of technology and data integration to relieve burden and create efficiencies in care
Healthcare Models Are Changing
Health models are changing and healthcare providers need to make fundamental changes to culture and care models in order to keep up with the ways consumers are contributing to their care. Consumers, patients, have increased their access to their healthcare data, and are more actively participating in the generation and utilization of the healthcare data with the integration of fitness trackers and medical devices to monitor their health remotely. 
Aging Population and Workforce
"By 2032 the population over 75 will grow by 75%; the population under 18 will grow by only 3.5%. Wisconsin's population older than 65 will double by 2030 and health care demand will increase by 30%."
Integrating Clinical and Administrative Data: Opportunities
Opportunities to Focus On:
Value-based care models for patient-centric care, including transparency in care to better communicate with patients
Increased efficiency in documentation to reduce provider burden and time spent away from patients
Automation of prior authorizations to speed up the time between care procedures and reduce healthcare staff burden
Integration of telemedicine, remote patient monitoring, and virtual care into healthcare models and data flow
Value-Based Care Models
Healthcare models need to move from fee-for-service to value-based care in order to maintain consumer participation and provide maximum value. This model is inherently counterintuitive, a doctor who works to actively keep their patient out of their clinic — no one has ever heard of such a thing. But it is precisely this style of care, with incentives and revenue models around keeping healthy people healthy and out of the clinic, that will bring the most value to the healthcare industry and disrupt a failing model of care.
Reducing Provider Burnout
Jennifer stated so perfectly in her presentation the need to focus on efficiencies in documentation and atomization of prior authorizations to relieve patient and provider burden.
"We know pre-COVID that U.S. clinicians were spending more time in the electronic health record than they were with patients.  We must reduce regulatory burden on our health care workforce.  Before adding any new regulation, the intended impact must be balanced against the time it takes doctors and nurses away from patients.  And we must actively seek to reduce the burden on health care teams needed to care for the increasing health care demands of an aging population."

Jennifer Mueller
"The burden on our providers is very large. It is their documentation that the payers are requesting after all. Generally speaking, this isn't a bad thing that payers are trying to control costs by reviewing documentation to ensure medical necessity, but the volume of these requests over time have dramatically gone up! According to that same AMA survey, on average a physician can have 33 prior auths to deal with per week! That results in about two full business days of staff time to complete which takes them away from other duties and most importantly, focusing on the patients. It can also be a cost burden to the providers as 30% of practices have to pay staff to exclusively work on processing and responding to prior auth requests."
Leveraging Technology and Data Integration as the Solution
The demand for healthcare is going to exponentially grow in the coming decade, while the relief of new healthcare staff entering the workforce will lag dramatically in comparison to the aging workforce. In order to avoid a complete failure of our current healthcare model, new ways of engaging with patients, such as taking the hospital to the home through remote patient monitoring, creating data-driven platforms for improving the effectiveness of patient care, leveraging technologies to relieve provider burnout through efficiencies of documentation, etc are all necessary to meet this pending healthcare challenge.
While the Covid-19 pandemic "jumpstarted" the adoption of telemedicine, and remote patient monitoring it is the integration and adoption of these tools internally within healthcare providers that will keep these services around post-pandemic in a way that maximizes their potential and best benefits patients and providers alike.